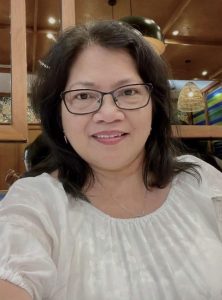 Lucy Espita Orduna, 57, a resident of Pearland, TX passed away July 6, 2023 in Webster, TX. She was born in the Philippines on November 27, 1965. She was a member of St. Anthony Catholic Church and was employed as a Physical Therapist with Ignite Medical Resort in Webster, TX. "Lucy is a selfless Mother, caring and loving wife, unconditional friend, hard worker, and always compassionate in helping her patients rehabilitate. She is full of life, fun to be around with, the life of the party! She loves to dance, watch concerts, travel, nurture her garden, including her orchids and taking care of her family."
She is preceded in death by her parents, Bienvenido and Lydia Espita; and brothers: Danilo Espita, Reynaldo Espita, Eduardo Espita.
Lucy leaves behind her husband of 27 years, Michael Orduna; daughter, Kate Orduna, and fiancée Danny Tran; sons: Karl Orduna, and Kevin Orduna; sisters: Helen Espita Viray, Josefina Espita, Merlita Espita Tuazon, and Kris Anatado; brothers: Mario Espita, Hilario Espita.
A visitation will be Thursday, July 13, 2023 from 3:00 p.m. to 8:00 p.m. with a rosary to begin at 6:00 p.m., as well as Friday, July 14, 2023 from 3:00 p.m. to 8:00 p.m. with a rosary at 6:00 p.m. in the chapel of Crowder Funeral Home in Pearland. Mass will begin Saturday, July 15, 2023 at 1:00 p.m. at St. Anthony Cathedral Church, 700 Jefferson St. Beaumont, TX 77701. Follow by a visitation at Crowder Funeral Home in Pearland from 4:00 p.m. to 8:00 p.m.