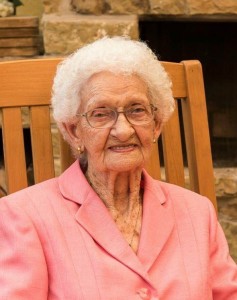 Lucille "Nanny" Williams of Dickinson passed from this world to a better one on Monday, April 4, 2016, after more than 100 beautiful life-filled years.
Nanny was preceded in death by her parents, William and Martha Baker; husband Marion Williams; sister and brother-in-law Beatrice and Bill Cariker; brother Louis Baker; sister Edith Massey; son-in-law Patrick Kelley and many other relatives and friends. She is survived by her son Vernon Williams and wife Marie of Santa Fe; son Wayne Williams and wife Joanne of Carrizo Springs; daughter Juanice Kelley of Nunnelly, Tenn.; grandson Eddie Williams and wife Tammie of Pasadena; granddaughter Karen Johnson of Santa Fe; granddaughter Cheryl Carswell and husband Pat of Sugar Land; granddaughter Michelle Mares and husband Joe of Texas City; grandson Gary Kelley and wife Nancy of Nunnelly, Tenn.; granddaughter Linda Wilson and husband Bennett of Bastrop; plus 13 great-grandchildren, five great-great-grandchildren and hundreds of nephews, nieces, cousins and friends who love and will miss her dearly.
Visitation will be 6-8 p.m. Wednesday, April 6, and funeral is set for Thursday at 2 p.m. at Crowder Funeral Home in Dickinson. Pallbearers will be Curtis Gillentine, Thomas Williams, David Ramirez, Jonathan Kelley, Christopher Kelley and Brandon Renaud. Honorary pallbearers are Eddie Williams and Gary Kelley.