Louise Johanna Thomas Finke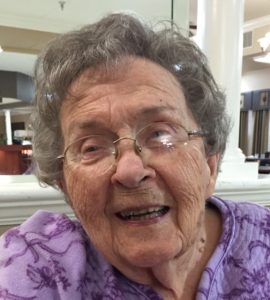 Louise Johanna Thomas Finke, age 98, passed away on February 8, 2017 in Webster, Texas. She was born on August 18, 1918 to John Jacob Thomas and Eva Buller Thomas. Louise is survived by her daughter Donna Louise Finke Gregory (her only child); her grandchildren David, Paul and Justice Vanpool; her step-grandchildren Allen and Kevin Gregory and Janna Gregory-Powell; her step-great grandchildren Taylor Powell, Kyle Gregory and Kara Gregory and numerous family members and friends.
She is preceded in death by her husband Don Ellison Finke, her parents, her brothers Emil and Alvin Thomas, her sisters Marie Andres and Helen Unruh.
Louise enjoyed reading her Bible, leading women's Bible study groups, gardening and canning, sewing, baking and decorating cakes and arranging flowers for special events and church services.
She was a devoted wife, loving mother, and an affectionate grandmother, great-grandmother and friend to many.
A Funeral Service will be held on Monday, February 13, 2017 at 11:00 am in the Chapel of Crowder Funeral Homes in Webster, Texas, with David Bridges, Friendswood Friends Church Pastor officiating.
There will be a short Graveside Service in Miami, Ottawa County, Oklahoma on Tuesday, February 14, 2017 at 12:00 noon at the burial site.
In lieu of flowers, those wishing to make a memorial donation in Louise's memory may do so to Friendswood Friends Church, 502 South Friendswood Drive, Friendswood, Texas 77546.