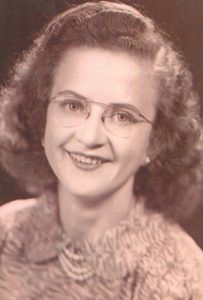 Louise G. Williamson, 93 years old, went to be with her Lord and Savior December 24, 2016. She was born in Lufkin, TX November 4, 1923. She moved to Houston, TX at an early age, where she lived out the rest of her life.
Mrs. Williamson graduated from Milby High School in 1942 and married Charles Douglas Williamson December 11, 1949. With a family of three boys, she learned to enjoy camping, fishing, hunting and also attended many Astro and U of H Cougar games. After the death of her husband in 1974, she worked as an insurance clerk for Dr. McMullin and Dr. Stonesipher until her retirement in 1993.
Mrs. Williamson is preceded in death by her parents Bryant and Zelma Grimes, her twin sister Eloise, infant daughter, brother Eldridge and her beloved husband Charles Douglas Williamson.
She is survived by her sister Genece Allison, sons: Darrell, Wendell and Darwin, grandchildren: Nathan, Annalena, Danielle and Noah; daughter in law, Stephanie (Wendell's wife) and numerous nieces and nephews.
There will be a visitation held on Monday, January 2, 2017 from 5-8 pm at Crowder Funeral Home in Pearland. Funeral service will begin Tuesday, January 3, 2017 at 11:30 am in the chapel of Crowder Funeral Home. Followed by a burial at Forest Park Lawndale.
Family wishes to thank all the doctors and nurses at Southeast Memorial Hospital and the personnel with Silverado Hospice, who cared for her in her final illness.