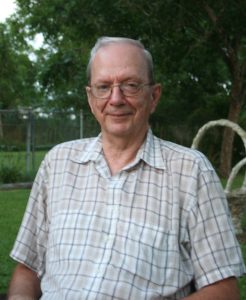 Louis Henry Westerlage, 90, of La Marque passed away on Sunday, June 25, 2023 in League City.  He was born on November 8, 1932 in Galveston, Texas to George and Nora Westerlage.
Louis was a lifelong resident of La Marque. He was veteran of the US Army and he retired from Monsanto/Sterling Chemical.
He is preceded in death by his parents, brother George Westerlage, Jr., and nephew Richard Westerlage.  He is survived by nephew Mark Westerlage (wife, Alicia) great-nieces Hannah, Laura and Kelli; niece Karen Hadaway (husband, Troy) great-nieces Christie and Danielle and great-nephew Shane and nephew Gary Westerlage (wife, Carolyn), great-niece Catherine and great-nephew Matthew.
The family extends their deepest gratitude to the staff at Baywind Village in League City for the compassionate care they provided Louis during his final years.
A visitation will be Monday, July 3, 2023 from 10:00am – 11:00am at the James Crowder Funeral Home in La Marque with the service at 11:00am.  Burial will follow at Galveston Memorial Park Cemetery in Hitchcock, Texas.