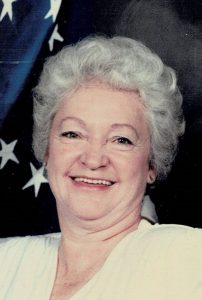 Lorena Elliston Coble, of Dickinson, Texas resident since 1964, passed away March 27, 2020 in League City, Texas. She was born Alice Lorena McCreary on May 30, 1932 in Lott, Texas to parents James McCreary and Gladys Opal Davis McCreary. She married Billie Gene Elliston on July 4, 1949. After Bill's death in 1977 she married Brodie Coble in 1980. Together she and Brodie spent many years traveling across the country in their motorhome, and they both enjoyed bowling and square-dancing.
Lorena was preceded in death by both husbands, Bill Elliston and Brodie Coble, parents, J.D. and Gladys McCreary, brothers, James McCreary, Claude McCreary, and Jack McCreary. She is also preceded by her three sisters, Elizabeth Elliott, Mary Ann Pomykal, and Wanda Schwake; and great-grandson Kane Lewis.
Lorena is survived by her sons, Michael Elliston and wife Jeanne, Billie Elliston and wife Denise, and Roger Coble; daughter, Margie Coble; grandchildren Cory Elliston, Tristan Elliston, Haley Sanchez, Michael Coble, Marshall Coble Michelle Turner and Bevin Christen; great-grandchildren, Michael Jethro, Astrid, Jareth, Silas and Brandt; along with numerous nieces and nephews.
Visitation will be held Saturday, June 27, 2020 at 1:00 p.m. followed by a Memorial Service at 2:00 at Crowder Funeral Home in Dickinson, Texas with Pastor John Elliott of Gulf Coast Four Square Church officiating.