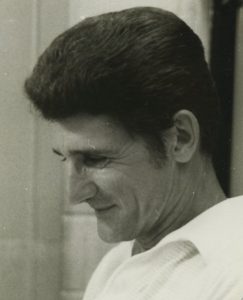 Lorant Garban born April 4, 1932 departed for his heavenly home on May 19, 2017. Preceded in death by his parents Aladar and Erszebet and brother Robert.
Beloved husband of Julia, adoring father of Kathy & Kelly, father – in – law of Dianne, caring grandfather of Lauren, David, his fiancee Christine, Dustin his wife Selena, Dayna her husband Cody and the great grandkids, Jordan and Meredith. His sisters, Kati and Gyorgyi, her husband Gyula, and nieces and nephews in Hungary.
Lorant a Hungarian Freedom Fighter left Hungary and settled in Muskogee, Oklahoma before moving to Dickinson, Texas.
He loved working in his yard, was an avid lifelong soccer player and coached youth and men's teams, a runner and cyclist who participated in duathlons and marathons, including Boston at age 73.
In his honor, a memorial service will be held on Friday, May 26, 2017 at 2:00 PM at Crowder Funeral Home Chapel in Dickinson, Texas.
Much appreciation is given for his care by Harbor Hospice. In lieu of flowers donations may be given to Harbor Hospice Foundation at 281-461-6109 or Bay Area Pet Adoptions at 281-339-2086.