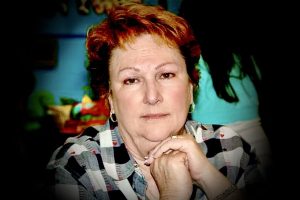 Linda Gail Chancellor was born November 29, 1947 and passed away Thursday evening November 10, 2022 surrounded by her family.
Linda was born in Kilgore, Texas. Raised Southern Baptist, her faith guided her life. She loved her family and everyone she knew. She attended Stephen F. Austin majoring in Home Economics and became the best at everything she set out to do. Early in her life, she discovered a love of sewing and she continued to learn all she could about being a master seamstress, focusing on heirloom sewing and smocking, making heirloom christening gowns for families to share with generations of babies. She was a member of The Smocking Arts Guild of America. She was past president of the Houston Chapter, raising money and focusing on making burial gowns for babies that passed at birth.
Volunteering for Homes of St. Mark, Linda fostered and loved 55 babies while they waited for their forever home.
She was an avid cook and baker and collected hundreds of cookbooks over her life. She found great joy in the presentation of a dinner party and a great meal. She is famous around the holidays for making the world's greatest fudge, giving it to those she loved, and even those she just met.
She raised money for the Chron's & Colitis Foundation and spread the word about how important research was to find a cure.
She loved to travel and had become an avid photographer.
In the last five years, she developed a passion for dog agility and training with her Miniature Sheltie, Cooper. Together they competed in and won several agility competitions and spent several hours at nursing homes around Houston bringing smiles to people.
She is survived by her husband of 57 years, Donald "Skip" Chancellor; sons, Scott Chancellor and wife, Tracey; Jeff Chancellor and wife, Serena; and Casey Chancellor and wife, Heather; grandchildren Jesse Sanchez, Chase Chancellor, Natalie Chancellor, Serafina Chancellor and Cade Chancellor; brother, Kirk Fulk; nephews, Alex Fulk and Drew Fulk; and sister-in-law Jo Colina and husband, Tony. Linda is proceeded in death by her parents, Cecil and Dorothy Fulk; her brother, Bill Fulk; step-father, Lawrence Franks; and sister-in-law, Rayette Fulk.
Gum Gum, as she was affectionately called by her grand kids, will be greatly missed by all who knew and loved her. She loved people and relationships and never missed an opportunity to talk to anyone she met. If you were lucky enough to know her, your life was made better for it.
A memorial service will be held Thursday, November 17 at The Church on Masters Road 6911 Masters Road, Manvel, TX from 11:00 AM to 12:00 PM, with a catered reception immediately following at the church.
In lieu of flowers, the family requests memorial contributions be made to The Crohn's & Colitis Foundation.org or The Pulmonary Fibrosis Foundation (pulmonaryfibrosis.org).
The Crohn's & Colitis Foundation                    Pulmonary FibrosisFoundation       National Headquarters                                        National Headquarters
ATTN: Financial Operations                              230 East Ohio Street
733 Third Avenue, Ste. 510                                 Suite 500
New York, NY 10017                                             Chicago. Illinois 60611