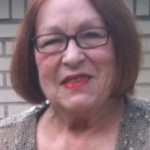 Lillie Faye Ackerman, 71, was born May 15, 1943 and went to be with the Lord on May 21, 2014. She was born in Ft. Worth, TX then moved to Pearland, TX where she lived for 14 years.
She is preceded in death by her parents, Hardy and Velma Main; bother Albert Main.
She leaves behind to cherish her memories, her 2 daughters: Robin Bonner and husband Mark and April Ackerman and partner Anita Gill; 1 grandchild Courtney Clifton and husband Chris; 1 great grandchild on the way, Wyatt Mark Clifton; sister Carolyn Main and partner Keith Hummer; brother Danny Main and wife Tonya; her best friend for 68 years Marjorie Evans and partner Donald Taft; numerous nieces, nephews and cousins. And loving neighbors.
A memorial service will be held on Saturday, June 14, 2014 at 11am at Crowder Funeral Home in Pearland.