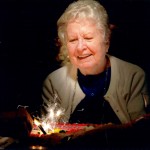 Lillian Marie Chrisman, 90, of Pearland, Texas, passed away February 4, 2014 in Houston, Texas.
She was born October 7, 1923 in McCook, Nebraska to William and Bertha (Cornish) Brenton. She was a vibrant, energetic, and independent woman who had a wide variety of interests. Lillian loved animals, especially dogs. She liked big ones and little ones and always had one by her side. A few years ago, she found she had another soft spot when she was adopted by a blue-eyed calico cat named Princess. She enjoyed knitting and crocheting and found pleasure in giving afghans, tablecloths, and other creations to relatives and friends. She was a huge sports fan. The Denver Broncos were her favorite team, but the Texans, Astros, and the Rice Owls baseball team also had a special place in her heart. Lillian was an avid reader with a particular interest in murder mysteries. To get her exercise, she and her friend, Norma Wilkinson, took up aerobics and line dancing. At the wedding of her grandson Sean, she conducted line dancing lessons so that several of us could get out on the dance floor with her. She took great pride in her gardens around her house and loved working in her yard.
She lived in Pearland for 7 years, having moved here from Sun City, Arizona. She grew up in Denver, Colorado and lived there for many years. Lillian was employed by IBM in Boulder, Colorado and transferred to Tucson, Arizona to enjoy a warmer climate. It was from the Tucson office that she retired after 20 years of service and then moved to Sun City.
Lillian is preceded in death by her loving husband of 49 years, Burt H. Chrisman Sr., son Chuck Chrisman, and her sister, Anna Havens.
Lillian is survived by her sons, Burt H. Chrisman Jr. and his wife Bonnie, Jay R. Chrisman and his wife Phoebe, niece, Alene Penn; grandchildren, Kimberly Chrisman, Sean Chrisman and his wife Molly, Yan Scherman and her husband Evan, Chung Lau, and Wei Lau; great-grandchildren, Noah, Dillon, and Alexa Scherman.
She will certainly be missed.