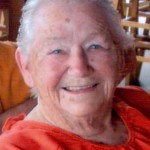 Lillian Faye Simmons, 84, was born January 4, 1930 and passed away, surrounded by her family, on August 5, 2014 in Pearland, TX, where she resided for 26 years.
She is preceded in death by her parents, David and Lillian Wimberly, and brother, David Wimberly.
Lillian leaves behind, to cherish her memories, her children: Donie Sanford and husband Leroy, Betty Allen and husband Wayne, Darlene Allen, James Simmons and wife Debbie; siblings: Ethel Santoro, Adrianne Marcontell and husband Ray, and Pat Patterson; nine grandchildren and twenty-one great grandchildren.
She enjoyed playing card games and dominoes with her friends and family. She loved to read, and to watch game shows, soaps, and football (the Texans). As long as she was surrounded by her family and friends, she enjoyed whatever activity she was doing.
A memorial service will be held Saturday, August 9, 2014, at 1pm at Crowder Funeral Home in Pearland.