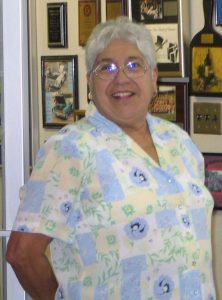 Lidia Vasquez, 78, of Deer Park, passed away Monday, July 31, 2017. Lidia was born August 18, 1938, in San Benito, Texas, to Pedro and Petra Trevino.
She lived over 40 years in Galveston County.  Lidia loved to play Bingo and go to the Coushatta and play the Nickel slots as long as possible.
Lidia is preceded in death by her parents, her husband Juvencio Vasquez, and three daughters: Sonia, Marisela and Maricris; her sister Aurora Trevino and her brother Jose Martinez.
She is survived by one daughter, Veronica Schneider and husband Chris; two sons, Armando Vasquez and Martin Vasquez and wife Kathryn; and five grandchildren: Michaella Vasquez, Hunter Vasquez, David Schneider, Chris Schneider Jr., and Lauren Schneider and one great grandchild arriving soon, and her sister Josefa Trevino.
Lidia was wonderful at taking care of her family.
A visitation will be held from 12:00 pm to 1:00 pm on Monday, August 7, 2017 at James Crowder Funeral Home, La Marque. Services will be held at 1:00 pm at the Funeral Home with Deacon John Carrillo officiating. Interment will follow at the La Marque City Cemetery, La Marque, Texas.