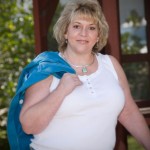 Letty Lee Hickman Surman, passed away at the age of 50 on the morning of October 19, 2014 at her home in The Heights in Houston, Texas.
The visitation will be held from 6 to 8 P.M. on Friday, October 24, 2014 at Crowder Funeral Home located at 1645 East Main Street in League City, Texas. The funeral service will be held Saturday, October 25, at 12 P.M. at Crowder Funeral Home, led by Deacon David Bowman.
The burial will follow at Mount Olivet Cemetery, 7801 Gulf Freeway, Dickinson, Texas under the direction of Crowder Funeral Home.
Pallbearers are her beloved nephews James Rex Hickman II, Herschel M. Hickman, Jr., Stuart Niemeyer, Antonio Brinkerhoff, as well as her cousins Bennett Cook and George Harvey.
Letty was born on April 25, 1964 in Houston, Texas. Born to James and Mary 'Helen' Hickman I, Letty was the second of three children. Her father, James (Jimmy), accepted a position as an Assistant Agricultural Attaché for the U.S. Department of Agriculture, which brought their family to various places around the world. At four years old she traveled with her family as they relocated to Turkey, Liberia, Yugoslavia, and Virginia before settling in Seabrook, Texas.
Letty attended school in Seabrook, Texas and graduated in 1982 from Clear Lake High School. Shortly thereafter, she met Robert (Robby) Surman. They then married in 1984 in League City, Texas. During their time together, they had their most precious gift, their daughter, Jennifer Nicole Surman.
In the late 1990's, Letty knew her calling was in the Human Resources field. At that time she pursued her Bachelor's Degree in Business Administration at Southwest Texas State University and graduated in 1999. In 2004, she accepted a position with KBR/Halliburton and relocated to Kuwait, and later to Iraq. In 2007, she returned to the States and made her home in The Heights in Houston, Texas.
Letty loved her family and friends tremendously, especially her daughter and granddaughters. Being adventurous, she enjoyed trying new things by challenging her creative intellectual capabilities by returning to school for her Master's Degree. She was quite the jet setter and delighted in traveling the globe as well as savoring eclectic cultures.
Letty is preceded in death by her father, James Rex Hickman I; and her mother, Mary 'Helen' Cooper Hickman of Seabrook, Texas.
Letty will be greatly missed by all those who loved her, especially her daughter, Jennifer Nicole Crum and husband Michael; her granddaughters, Jillian Turner and Audrey Crum, of League City, Texas; her sister, Lorre Moore and husband Donald of Baytown, Texas; her brother Herschel M. Hickman, Sr. and wife Rebecca of Caldwell, Texas; her nieces Sandra Brinkerhoff and husband Antonio of Alvin, Texas; Alexandra Niemeyer and husband Stuart of Shenandoah, Texas; Makayla Hickman and Halie Hickman of Caldwell, Texas; her nephews James Rex Hickman II and Herschel M. Hickman, Jr., of Caldwell, Texas; along with three great-nieces and one great-nephew. Letty will always be remembered in the hearts of all those she touched as a great mother, grandmother, sister, aunt, and friend.