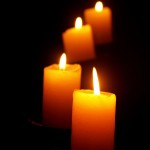 Leroy John Holub, 69, resident of Santa Fe, Texas passed away November 1, 2015. He was born October 26, 1946 in Schulenburg, Texas. He served in the U. S. Army earning a rank of Sergeant till Honorably Discharged in 1969. Leroy retired as a licensed Journeyman in the Commercial Electrical field. Leroy was preceded in death by his parents Victor Joe Holub and Marie Dusek.
He is survived by his daughter, Diana Holub;
Sisters, Margie, Esther, Lizzy, Donna, Mary, Dorothy, and Linda;
Brother, Sonny Holub and wife Jackie; and numerous nieces and nephews, including Sonny Victor Holub, professional arm wrestler, fishing guide, and 700 hitters.
Visitation will be held from 12:00 pm -1:00 pm Sunday, November 8, 2015 at Crowder Funeral Home in Dickinson, Texas with a Funeral Service beginning at 1:00 pm. He will be laid to rest by family at future date.
Following the services please join the family at the:
KC Hall
11100 Hwy 6,
Santa Fe, TX.