LEROY JAMES 'RUSTY' SCHAPER
OBITUARY – LEROY JAMES 'RUSTY' SCHAPER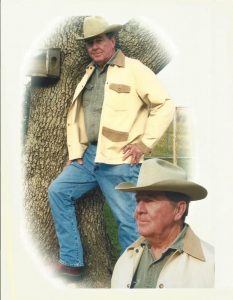 Leroy James "Rusty" Schaper, 85, passed away Thursday afternoon, August 8, at his home in Dickinson. He was surrounded by his wife and four children, who cared for him until the end, and by other family members who loved him.
Family visitation will be from 5-6 p.m. Sunday, August 11, followed by visitation for friends from 6-8 p.m. at Crowder Funeral Home, 851 FM 517 West in Dickinson. The funeral service will be at 10 a.m. Monday at the funeral home with burial to follow in Galveston Memorial Park Cemetery in Hitchcock.
Rusty was the youngest and last surviving sibling of 13 Schaper brothers and sisters who for many years operated the Schaper Dairy on the west end of Galveston Island. In 1975, Rusty purchased Texas City Feed and Supply, which the family still operates.
He is survived by Jane Angelo Schaper, his beloved wife, high school sweetheart and love of his life for over 65 years.
He is also survived by daughter Sherry L. Schaper, sons Leroy James "L.J." Schaper, Jr. and wife Laurie, Gary G. Schaper and wife Rita and daughter Joni J. Schirmer, Kevin Schirmer, grandchildren Kelsea Vernon and husband Shaun, Andrew Schaper, Kyle Schaper and wife Caitlin, Whitney Schaper and Kailea Blankenship and husband Seth. Other survivors include Waunita Schaper, Jeanne Huggins, Lamar Angelo (Judy), Jack Angelo (Sonja) and numerous nieces, nephews and other relatives.
Officiating at the services Monday will be "The Right Reverend" Tom Lera (as Rusty called him), a dear family friend. Pallbearers will be Andrew Schaper, Kyle Schaper, Shaun Vernon, Seth Blankenship, Kevin Schirmer and Joe Betancourt. Honorary pallbearers will be Tommy Lera and Donald C. "Frog" Smith.
Rusty was preceded in death by his parents August H. and Elizabeth Schaper; sisters and brothers, Helen Walker (Milton), A.C. Schaper (Norma), Harold Schaper (Olga), Ethel Mae Schaper, Mabel Schultze (Henry), Louis Schaper (Marguerite), Robert Schaper (Lillian), Annabelle Swygert (Tom), Victor Schaper, Theodore "Buck" Schaper, Catherine Siefkes (Paul) and Ray Schaper (Jane).
Early Life
Rusty was born on the island at St. Mary's Hospital on Sept. 20, 1933. He and several generations of Schapers worked in the dairy, a business founded after his grandfather, August Charles Schaper, immigrated from Hamburg, Germany, in 1872.
Rusty was the captain of the Ball High School football team, once leading the team to score three touchdowns in 90 seconds.
Rusty was a veteran of the U.S. Army and was deployed from 1953 to 1955, serving in Germany after the Second World War as a member of a guided missile battalion. Rusty continued playing football during his service in the Army until a broken leg sidelined his playing career. He was known for his navigational skills during his time overseas, where he was referred to by his fellow soldiers as a leader of men.
On March 27, 1954, he married his high school sweetheart and the mother of his four children, Jane Angelo of Knippa, Texas.
Dairy Farming & The Feed Store
Upon returning from his military deployment, Rusty first worked at the dairy. He later purchased a local business, Texas City Feed & Supply in 1975, operating the business with the support of his wife and family for over 44 years until his death. Family members continue to operate that business. The dairy closed down in 1978.
He was active in his community through involvement with the Tucker Lodge 297 Masons and coached little league baseball. He was a supporter of the Galveston County Fair & Rodeo through his affiliation with the Texas & Southwestern Cattle Raisers Association. Rusty was a former board member of the Bank of the West, which later became Texas First Bank
Later Years
Rusty was an avid fan of Astros baseball, watching the games religiously. He was an active livestock owner and passionate rancher. He was especially fond of circus peanuts and jelly beans. He was always an advocate for small business, often refusing to patronize big-box chain stores while famously never entering a WalMart store.
In his later years (as well as his early and middle years), Rusty could always be found with his friends and family, pouring himself a Jack Daniels toddy with just a splash of water at around five o'clock. His family compound in Dickinson was known as Five O'Clock Somewhere.
In lieu of flowers, the family suggests donations to Shriners Burns Children's Hospital of Galveston, 815 Market Street, Galveston, TX 77550, or to the Ronald McDonald House of Galveston at 301 14th Street, Galveston 77550.