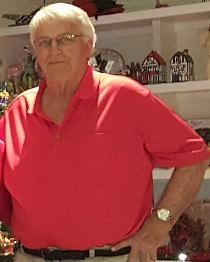 Leon Frank Wenzel made his transition into eternal life on February, 18, 2018 after losing a short battle with Leukemia.
Leon was born in Rockdale,Texas on February, 23, 1944 to Paul and Bessie Wenzel.
He was a member of Peace Lutheran Church in Rockdale, Texas his entire life.
Later, after making League City his home,he and his family attended and supported League City United Methodist Church for many years.
As a child, Leon  lived in a country setting where he enjoyed freedom and the love and nurturing of a large extended family.
His athletic gifts were many, and he loved football, basketball and especially baseball. Baseball became his forte, and he excelled.  As a pitcher, he pitched many shut outs and no hitters in his time.After graduating from Rockdale High School in 1944, he attended Blinn Jr. College on a baseball scholarship, where he continued to lead the Buccaneers to many victories. During that time, he connected with his future wife, Gaylynne. They were married after her graduation from high school.  Their marriage gave them two children, and a fifty three plus year legacy.
Leon's family was his life and love, and his children were his joy.
Leon was a natural coach, and coached both his children in Little League basketball, baseball and softball, and both  children in many years of outside league basketball. Most years he led and coached his teams in ALL STAR games.
Leon's strength of character was evident in his work ethic , moral life choices and total support for family and friends. He was considered a loyal friend and confidant by many in his life. When needed, he was there with compassion and without complaint.He represented the qualities of fairness, patience,loyalty and honesty in the lessons he taught in life.  Leon was a  good man.
He loved his fur babies,grand doggies and his equine buddy, Boss. He is  now reunited with his precious fur children.
Leon enjoyed camping and RVing out West with his family. Many great memories were made tent camping and RVing in the mountains of Canada, Montana, Wyoming and Colorado over the years. His favorite places were the golf courses in Waterton Lakes, Canada and Red Lodge Montana.  He made many friends along the way, and considered them part of his extended family.
In retirement, he enjoyed keeping in touch with his extended family and his numerous phone calls weekly to friends  from childhood and college gave him joy and purpose. He and Gaylynne organized an annual Old Friends Golf Reunion in Rockdale, and it became an event everyone looked forward to attending.
Golf became his passion in later years, and he enjoyed the comradery of good friends on the golf course.
Leon was a lifelong member of Pipefitters Local 211, and he worked in Houston, Wyoming and throughout the Gulf Coast for over thirty years. Ultimately, he went to work for Penreco in Dickinson, Texas where he retired in 2005.
Leon was preceded in death by his parents, Paul and Bessie Wenzel and sister, Lavada Yoakum.
Leon is survived by his wife, Gaylynne Wenzel of League City; His son, Gregory Wenzel ( Norma) of Houston; his daughter, Karyn Wenzel (Justin) of League City; his sister, Joeva Powell (Britt) of Rockdale ; step Grand children, Ellie and Robert; Grand buddy, Jakob; niece Paula Bowden( Ric); nephew James Powell (Trish); special cousin-in- Law, Rolf Felts; his fur babies and grand fur babies.
Arrangements for:
Celebration of Life, Birthday and Memorial:
Friday, February 23, 2018
2:00 PM with reception following at
League City Methodist Church
1601 League City Parkway
League City, Texas 77573
In lieu of flowers, memorials may be sent to League City Methodist Church