Leneade "Lynn" McClain Warner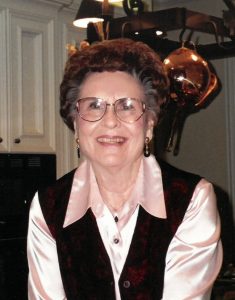 Leneade "Lynn" McClain Warner, 93, of La Marque passed away on Saturday, September 28, 2019 in Texas City.  She was born on July 30, 1926 to Albert and Irene Mings and was part of the Greatest Generation.
Lynn was a member of Paul's Union Church her whole married life.  She cared for her family, church family and served her church. Lynn also loved to dance to big band music.
She is preceded in death by her parents, her three husbands; Richard Kirsten, Sr., Herman "Mac" McClain and Raymond Warner.  Lynn is survived by her two daughters; Linda Harris (Ed) and Rebecca Testa (Dennis) and her son Richard Kirsten (Beth); brother David Mings (Wanda); her seven grandchildren and eight great grandchildren.
A visitation will be held from 12:00 Noon – 1:00pm on Friday, October 4, 2019 at the James Crowder Funeral Home in La Marque with a graveside service at 1:30pm at Galveston Memorial Park Cemetery in Hitchcock, Texas with Pastor Doug McBrayer officiating.