Lawrence "Bull" Hernandez Sr.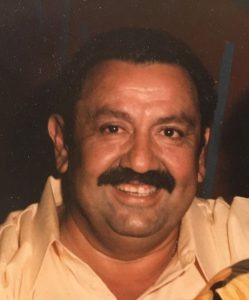 Lawrence "Bull" Hernandez Sr., 75, of Texas City passed away on Monday, May 22, 2017 in Texas City. He was born April 6, 1942 in Galveston, Texas to Rogers and Aurora Hernandez.
He was a lifelong resident of Texas City for over 50 years; Bull was a Longshoreman with ILA Local 20 for over 30 years.
Bull enjoyed Poker and Dominoes and taking long trips to Las Vegas to visit friends and gamble.
He is preceded in death by his parents. He is survived by his wife of 57 years, Nellene Hernandez, two daughters Laura Nell Manis and Paula Hernandez Cravy (Maria Carlos); two sons Lawrence Hernandez, Jr. (Delia) and Larry Hernandez Sr.; sister Margaret Karamitsos (Stavaros); seven grandchildren: Larry Hernandez, Jr., Alan Hernandez, Felisia Hernandez, Breanna Cravy, Roberto Villarreal, Jr., Bill Harmon and Justin Harmon; and four great grandchildren: Vanessa Villarreal, Noah Hernandez, Mason Hernandez and Olivia Harmon and numerous nieces and nephews.
Bull was a loving husband, father, grandfather and great grandfather.
A visitation will be on Thursday, May 25, 2017 from 5:00pm – 8:00pm with a rosary at 6:00pm at the James Crowder Funeral Home in La Marque. Funeral Service will be at 10:00am on Friday, May 26, 2017 at the James Crowder Funeral Home with Deacon John Carrillo officiating. Burial will follow at Hayes Grace Memorial Park Cemetery in Hitchcock, Texas.