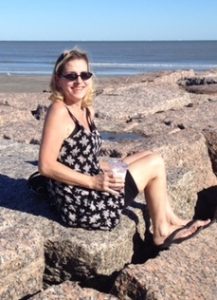 Laura Hayes, 50, passed away on October 6 in Houston, TX. She was born on January 15, 1966 in San Jose, CA to Bill and Carolyn McDougall, and was raised in Minnesota. Her husband, Paul Hayes, preceded her in death. She is survived by her children: Ryan (Lisa), Spencer (Caitlin), and Sydney; sisters: Kathleen, Amy, and Karen (Drey); aunt and uncle Dora and Andy; cousins: Kathryn, Patricia, and Joice; many beloved nieces and nephews; and Mike and Teresa Hayes, along with the rest of the Hayes family. She'll also be missed by her chihuahua, Smallz.
Laura's greatest passion was her children; she took great joy in their accomplishments and the tremendous people they have become. Laura enjoyed gardening, cooking and spending time with friends and family.
A visitation will be held on Sunday, October 9 from 2-4 pm at Crowder Funeral Home, 111 East Medical Center Blvd, Webster, 77598, with a reception following at Villa Capri, 3713 Nasa Rd. 1, Seabrook, TX 77586. In lieu of flowers, those wishing to make a donation in Laura's memory may do so to the Houston Humane Society or the MD Anderson Cancer Center.