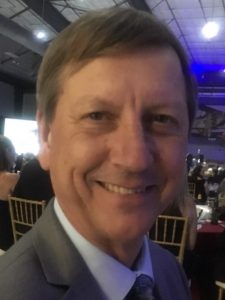 Larry Keith McDonald came into this world on April, 15, 1957 in Laredo, Texas.  His soul left his body on April 1, 2021 as he was holding the hand of his loving wife, Linda, at their home in Dickinson.
Larry left behind his wife Linda Diann Greenlee McDonald, his son Evan Stowers McDonald of Houston, his daughter Emery Lawrence McDonald of Austin, and his favorite playdoh buddy his granddaughter, Gaia Elizabeth McDonald.  He is also survived by his parents, Herman Keith McDonald and Mary Sue Johnson McDonald of Seguin; his sister Susan Annette McDonald of San Antonio, and his brother Scott Lindsey McDonald of Decatur, IL; his loving Portland, OR uncles Larry Dwight McDonald, after whom he was named, and Larry's husband, Gregori Jakovina; Shelby Quinn Rutledge of Houston; Hunter Cole Sims of Seabrook; and his faithful dogs and shadows, Sawyer and Bandit, who were all comforting him as this life came to an end.  He was preceded in death by his maternal and paternal grandparents, his brother Steven Bradley McDonald, and numerous aunts and uncles.
If you were lucky enough to know Larry you know how quick he was to love and share his joy in life and just living! He never hung up the phone be it a business or personal call without saying "we'll visit later". His college buddy, Terry Hill, describes Larry best as "PURE FUN".  Larry butchered every joke he ever tried to tell but his laughter was contagious and more often than not he was laughing at himself for how badly he was telling the joke. His love of music was ingrained in him and when he danced He Danced!
Larry loved and immersed himself in all of God's creations from sailing in the ocean to wishing he could be abducted by aliens and taken into space.  He could watch snakes, birds, and butterflies all day and all lizards were welcome at his house.  He would go out of his way to move these creatures to where he thought they would be safer and more comfortable.
He was a "Team Dad" in Dickinson for over 24 years from t-ball, baseball, football, basketball, soccer, Tae Kwon Do, to drama, and cheer, he was always proud and supportive of his children and their peers, who truly considered him a 2nd Dad.  He was most proud of the science fair projects they worked on together and was truly sad when his children outgrew these projects.  He was so looking forward to supporting and doing science projects with his granddaughter, Gaia, as well.
Larry always swore that the minute he saw Linda on October 8, 1979 he knew he was going to marry her.  He worked hard at that and won though he liked to joke "it wasn't always easy".  Linda liked to tell folks that her first child was a husband, then she had a beagle, and finally a real boy so Larry would have someone to play with.
He was a lover of games and gatherings; and arm waving Oklahoma State Cowboy fan who sat through games in almost zero degree weather.  He was always determined never to miss a party.  In fact he asked if he could bring an ice chest and cards to play poker in the chemotherapy infusion room and was sad to be told no.  His son, Evan, swears that heaven has to be more fun now.
Larry graduated from Enid High School in Oklahoma in 1975  and from OSU in Stillwater in December 1979 with a Bachelor of Science in Petroleum Engineering. He was a member of The Society of Petroleum Engineers and The Solution Mining Research Institute.  A gifted professional who was a mentor to many and a friend to even more of his peers over the decades of his career in the industry. He was the President of his neighborhood recreation association, The BCRA, and was always giving back to his community.
He fought cancer long and hard and wore his Fight Cancer t-shirt given to him by the caring team at Deke Slayton Oncology Center proudly.  We all thought we would have more time.
The service will be at Crowder Funeral Home in Dickinson Saturday, April 10, 2021 at 11:30 AM.  The family truly hopes that everyone will join them for the service and after for shared memories and lunch at Little Bella Mia in League City from 1:00 to 3:00 PM.  Larry always said "At my house I serve you your first beer and after that you are family and the ice chest is in the garage" so cheers and toasts will be appreciated as well.  In lieu of flowers donations may be made in his name to Texas Oncology Foundation either online at https://www.texasoncologyfoundation.org/giving/donate-online or by mail: Texas Oncology Foundation, 12221 Merit Drive, Suite 500, Dallas, TX 75251 please mark in memory of Larry.  Or through the funeral home to support the family in setting up an education fund for his granddaughter already born and grandchildren not yet born.