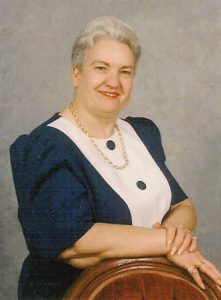 LaJuanta Kahler Adamson, 84, of League City, Texas peacefully passed away on September 15, 2023, surrounded by loved ones.
LaJuanta was born on November 15, 1938, to Ted and Lilly Kahler in Great Bend, Kansas.  She got to Texas just as fast as her parents could get there.  The family settled in Houston, Texas after World War II and she attended Southmayd Elementary School, James S Deady Junior High School, and Charles H. Milby High School Class of 1957.  While in High School she was set up on a blind date by a friend, that date turned out to be the love of her life, Thomas Warren Adamson.  LaJuanta and Tom were married in Magnolia Christian Church on Broadway, in Houston, Texas on June 8, 1957, and were married for almost 60 years at the time of Tom's passing in 2016.  Tom and LaJuanta had two children, a Daughter Vicki Lynn and a son Warren Gene.
LaJuanta was a wonderful mother and for the most part played the stay-at-home Mom role until the children were grown.  She worked as a cashier in the school cafeteria, she was part time church secretary at Magnolia Christian Church, and she volunteered in numerous church and school activities.  She was one of the first female elders in her church and was the first female President of the Congregation. In 1978, while accompanying Vicki to a job interview with Shell Oil she was asked why she did not also apply, so she decided to toss her hat in the ring.  She was later hired and spent a 26-year career with the company as an administrative and executive assistant.  Later in her career she was afforded the opportunity to travel several times to Europe on company business.  She thoroughly loved her job and the people she worked for and around.  Like many great assistants, she was the "unofficial force" of the office.
LaJuanta was a devout Christian and a lifelong member of the Disciples of Christ, she was raised in Magnolia Christian Church and that church through several mergers and location changes eventually became Kirkwood South Christian Church where she was a member at the time of her passing.  Besides her faith, her family was the most important part of her life.  She enjoyed movie nights with Tom, Astros baseball and traveling, seeing beautiful places and things.
LaJuanta was predeceased by her parents Ted and Lilly Kahler, her loving husband Tom, her brothers Victor Kahler and Noble Kahler, her daughter Vicki Lynn Hutchinson and a great- grandchild Sophia Hutchinson.  She is survived by her son, Warren Adamson and daughter-in-law Marianne Adamson, grandchildren – Carolyn Renee Sloan and her husband Grayson Sloan, Nicole Lynn Owens and her husband Jason Owens, Stephanie Liane Tope and her husband Joseph Tope and Justin Wayne Hutchison. Along with ten great grandchildren: Trevor and Tyler Spikes, Cade, Easton and Olivia Owens, Rachel, Gabrielle and Megan Sloan, Zayden and Braylen Hutchinson.
Memorial Services will be held at Crossroads UMC, 10030 Scarsdale Blvd, Houston, Texas 77089 at 2:00 pm on Sunday October 8, 2023.   In lieu of flowers, please consider a donation in her memory to Kirkwood South Christian Church, 10811 Kirkfair Drive, Houston, Texas 77089.