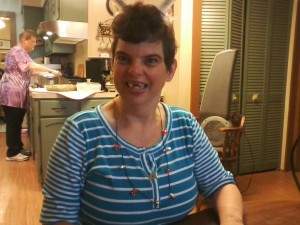 Kristi Lynn Feddersen, 51, of La Marque passed away on Monday, August 22, 2016 in Webster. She was born June 12, 1965 to Charles and Margaret Feddersen in Texas City.
She is preceded in death by her parents Charles and Margaret Feddersen. Kristi is survived by her sister and brother-in-law; Karen Feddersen Olive and Tim of La Marque and brother, Gary Feddersen of Santa Fe; uncle and aunt, Dr. Bill Feddersen and wife Betty Sue; cousins Gwen Neugent, Cyndi DePalermo, Lanis Neugent, Sherri Oberholtzer, Lauri Canales, Casie Johnston Crisp and Jewell Wainwright and special friend Lisa Friend and other family members and loving friends.
A visitation will be on Wednesday, August 24, 2016 from 5:00pm – 7:00pm at the James Crowder Funeral Home in La Marque. A Funeral Service will follow at 7:00pm with Jimmy Jones and Karen Olive officiating.
The family would like to thank A-Med Hospice and The Point Nursing Home for all of her loving care.