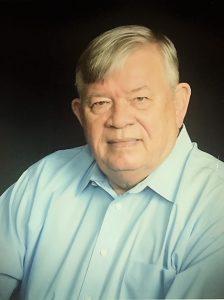 Kirby was born to John and Hertha Buesing in Kenedy, Texas on May 9, 1947 and was called home on March 20, 2018 in Houston, Texas. Kirby graduated from Runge High School in 1965. In January of 1967, Kirby was drafted into the army.  Kirby met his wife, Eileen Costello Buesing, through her brother while in the army. Kirby and Eileen were married on May 17,1969.
Kirby started his career at Mobil Chemical while living in Edison, New Jersey in 1969. He and his family moved to Texas while with Mobil in 1971. Kirby continued his career in the paint industry and worked for Jotun, Valspar, and Sherwin Williams. Kirby was a member of the National Association of Corrosion Engineers and the Coatings Society of the Houston Area. Kirby served on the Board and was a Past President.  Kirby was very well respected in the industry and was known as the man to get things done.  He was also known for this in his personal life.  He coached his son's and daughter's sports teams, served on various sports club boards, and could fix anything.  If his friends needed anything, from tools to advice, they knew to call Kirby.  Kirby enjoyed hunting, fishing, golfing and watching his grandchildren play sports.  Kirby fished often at his lake house after he retired.
Kirby is survived by his loving of wife of almost 49 years, Eileen Costello Buesing; his son, Kirby Buesing, Jr., wife Michelle Buesing; his daughter, Lisa Bonham, husband Bart Bonham; grandchildren, Kylie (Bonham), Kierstyn (Bonham), Colby (Jaquay), Reese (Bonham), Addison (Buesing), Steven (Jaquay), brother, Wayne Buesing, wife Connie Buesing; sister-in-law, Pat Wilner (Jeff); brother-in-laws, Ed (Diane), Mike (Judi), Joe (Becky) and several nieces and nephews. Kirby is preceded in death by his parents, John and Hertha Buesing; his father-in-law and mother-in-law Ed and Agnes Costello; and his sister, Janice Level.
The family will receive friends and family on Sunday, March 25, 2018 from 5:30-8:00 p.m. at Crowder Funeral Home in Webster at 111 E Medical Center Blvd. A eulogy will begin on Monday, March 26, 2018 at 10:00 a.m. at St. Bernadette's Church at 15500 El Camino Real with a mass starting at 10:30 a.m.  Interment will be at Mt. Olivet in Dickinson following the mass.
In lieu of flowers, the family request memorial contributions to: St. Jude's Children's Hospital or the Cancer Society.