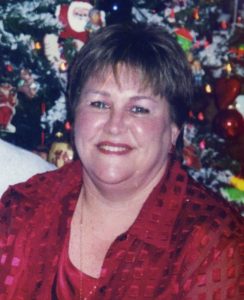 Kimberly Dale Vincent, 62, a resident of Dickinson, Texas passed away peacefully and reunited with her Savior, Jesus Christ, on Sunday, June 18th, 2023. Kimberly was born July 16, 1960 in Bellville, Texas to parents, James Allen Hering and Sherry Bell Hill.
She dedicated her whole life serving others and never met a stranger. Her heart and her home was always open to anyone that crossed her path and she had a truly unique and special gift of loving purely and unconditionally and seeing the very best in all. Her laughter was contagious and her smile radiated from her heart and lit up every room.
She was an excellent cook and an even better baker where she enjoyed making wedding, birthday, anniversary, retirement, and just about any cake imaginable. Her talent and creativity in all that she did was, and is, unmatched. Her other passions included hosting incredible family and friend holiday get-togethers and parties where every detail and inch was decorated and special for all that attended. If you were in her house, you were her family. If there was a holiday, she celebrated it and made it magical, if there was a dish or baking pan, she owned it, if there was a blank area in a room, she decorated it.
Her other passions included loving her husband, David Vincent of 46 years of marriage, her children (and anyone's child that she met), and her grandbabies with all of herself, swimming wherever and whenever she could, floating the Frio, singing about God's grace, travelling and seeing the bright lights of new and exciting places. Yet, her biggest passion in life was providing care to those in need, and she was blessed to spend her career doing so as a Registered Nurse where she specialized in labor & delivery and pediatrics both in hospitals and in home healthcare.
Kimberly is preceded in death by her mother, mother-in-law, Laurence Vincent, sister-in-law, Vickie Bailey, son, Cody Vincent, and three of her grandchildren, Nolan Reese Vincent, Jessica Michelle Vincent, and Liam Neil Vincent.
She leaves behind to carry her legacy, loving husband David Wayne Vincent; daughter, Crystal Nicole Vincent; son, Corey Keith Vincent; granddaughters, Preslee Camryn Bryson and Layla Kimberly Vincent, father, James Hering (Shirley), sisters, Konnie Reid (Ronnie) and Katherine Washburn; brothers, Kent Hering (Kimberly), Karlan Hering, Kevin Hering; and Stephen Oakes (Shannon).
To celebrate Kim being called home, there will be a visitation on Saturday, June 24th, 2023 from 10:00 am to 11:00 am at Crowder Funeral Home in Dickinson, Texas. A funeral service will follow at 11:00 am.