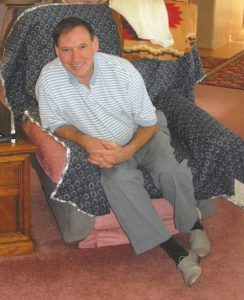 Kevin Keith Tipton of Pearland, TX passed away February 15, 2023 at Memorial Hermann Southeast Hospital, in Houston, TX at the age of 61. He was a native of Oklahoma born in Oklahoma City, the second son of James and Marilyn Tipton. He spent his early years in Oklahoma City and later moved to Texas with his parents where he graduated from Conroe High School in 1980. He was an avid student of contemporary music and of the entertainment industry. He was his own person, an individual who was never swayed by his peers. He was measured by his compassion for the unfortunate ones always ready and willing to consider them a friend, lend a helping hand, even though sometimes all he could offer was a kind word of encouragement and a smile that resonated from his religious belief and unwavering faith in Christianity.
He was preceded in death by his mother, Marilyn Tipton and brother Steven Scott Tipton.
Kevin is survived by his father, James Tipton; daughters; Skye Renee' Pittman, Kayla Alexandria Tipton; granddaughter, Stormy Pittman.
A memorial service is planned for at a later date. Remembrances may be posted at Crowder Funeral Home in Pearland, TX.