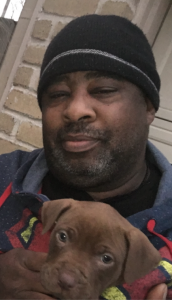 Kerry Vaughn Palmer, of Friendswood, Texas, passed away Thursday, March 2, 2017 at the age of 57. Mr. Palmer has lived in the Galveston County area for over 25 years and is a member of Calvary Houston. He was born March 4, 1959 in Tulsa, Oklahoma to Marie Florence Palmer.
He served our country in the U.S. Army and worked 35 years in the restaurant business as a Master Chef in Oklahoma and the Houston area.
He is preceded in death by his mother, Marie Florence Palmer.
He is survived by his wife of 9 years, Lois M. Palmer, son Brandon Palmer, daughter Janna Guillory and husband Jason, sisters Deedra Hargrave and Helen Smith, brothers Michael Hargrave, Whitney Hargrave and John Hargrave, grandchildren Jacob Palmer, Joshua Guillory, Joel Guillory, a niece Marie Hargrave and his three beloved "best friends" Anekin, Peaches, and Megan.
There will be a Memorial service Wednesday, March 8, 2017 11am at Calvary Houston. Memorials may be made to Calvary Houston or the American Heart Association in lieu of flowers.