Kenneth Neal Heimann, Sr.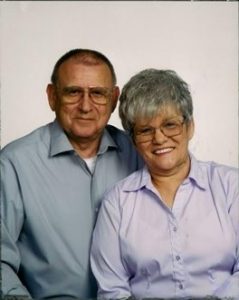 Kenneth Neal Heimann Sr., 82, longtime resident of Dickinson, Texas, passed from this life on May 6th, 2023, surrounded by loving family at his home in San Antonio, Texas.
Born December 5th, 1940 to Dennie Lee Smith and Margaret Harper Smith in San Augustine County, Texas, he started life from very humble beginnings but aspired to serve his country and others.  He entered military service at the young age of 17.  During his time in the United States Air Force, he served two tours in Viet Nam, one in which he was attached to the 14th Civil Engineering Squadron at Nha Trang AB. Upon his return stateside, he served as a Drill Instructor at Lackland AFB in San Antonio before being honorably discharged.  When Ken left the service, he took a position with the local police department in his hometown of San Augustine, Texas. It was during this period of his life that he met and married his lifelong love Geraldine Hiko, and together they created, fostered, and nurtured a happy and healthy blended family consisting of 7 children.
Some of Ken's most notable achievements include:
Drill Instructor and Civil Engineer – United States Air Force, Lackland AFB and Nha Trang Viet Nam
Patrolman and Jailor – San Augustine Police Department, San Augustine TX
Deputy Sheriff – San Augustine County Sheriff's Office, San Augustine TX
Recruiter – United States Air Force Reserves [multiple stations]; Retired with highest enlisted rank of Chief Master Sergeant
Air Force Junior Reserve Officer Training Corps (AFJROTC) Instructor – Dickinson High School, Dickinson TX
Dickinson Police Department [Jailor and Courtroom Bailiff]
32° Freemason – Scottish Rite (Southern Jurisdiction) – Redland Lodge #3 and Alvin Lodge #762,
Shriner – El Mina Shrine Galveston TX
Veterans of Foreign Wars (VFW) – Lifetime member
National Guard Association of the Texas – Lifetime member
Air Force Sergeants Association (AFSA) – Member
Disabled American Veterans (DAV) – Member
Texas Municipal Police Association – Member
Texas State Teachers Retired Association – Lifetime member
Ken was preceded in death by his parents Dennie Lee Smith, Margaret Harper Heimann, Frederick William Heimann Sr., his wife Geraldine Hiko Heimann, his sister Theresa Pauline Nichols, and his son John Albert Tewell.  He is survived by his loving children, Anthony John Tewell and wife Debbie, Kenneth Neal Heimann Jr. and wife Christina, Timothy Joseph Heimann and wife Cynthia, Christine Alane Gilmer, Michael Christopher Tewell and wife Diane, Jessica Ann Decker and husband Daniel; his sisters Margaret Harper Lehr and husband George, Norma Jean Jones and husband Bill, Bobbie Jo Carruthers and Judy Smith; his brothers Frederick William Heimann, William Daniel Smith and wife Sharon, Edward Smith, Ricky Smith, Vilmer Smith, and Denny Stanhope Smith; as well as 25 grandchildren and 6 great grandchildren.
In Ken's honor, a visitation will be held Sunday, May 14th, 2023 from 5:00pm to 7:00pm in the Crowder Funeral Home Chapel, Dickinson, Texas with a funeral service Monday, May 15th, 2023 at 10:00am. Interment will follow at Galveston Memorial Park Cemetery, Hitchcock, Texas.
In lieu of flowers, the family is requesting plants or a charitable donation to the Shriners Hospitals for Children.