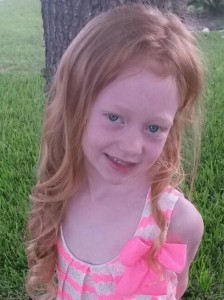 On January 17, 2016 our lives were forever changed when our angel girl, Kendall Lasseter, was suddenly
taken from us. Born December 2, 2009 to Granville and Jennifer Lasseter, Kendall Wyche Lasseter
entered our lives and over the next six years, taught us what love is truly all about.
Kendall was welcomed into Heaven by her great grandfather, Patrick Hawkins, great-great grandfathers
Jimmy Flanagan and Billy Herschel Buchanan, and cousin, Owen Bullard. Kendall is survived by her
parents, Granville and Jennifer Lasseter, brother Cannon Lasseter, grandparents Jodye and Dana Sharp,
GII and Susan Lasseter, John Flanagan, Sheila Olvera, and numerous other relatives.
Funeral services are set for Friday, January 22, 2016 at Bay Area First Baptist Church in League City.
Visitation will begin at 10:00 a.m. and service will start at 10:30 a.m.
The family would like to thank the doctors and nurses at East Texas Medical Center and a special thank
you to the first responders and EMTs who stayed with us until the end. The family would also like to
thank Southwest Airlines for providing airfare, counselors, and a crisis prevention team. The generosity
of friends and neighbors has been overwhelming, from providing food to opening their homes for family
to stay.
If you would like to make a donation, please donate to St. Jude's Children's Hospital in memory of
Kendall Lasseter.