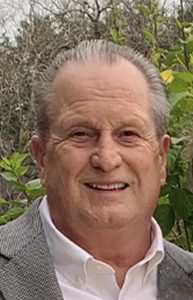 Ken Ray Roberts, a loving husband and father of 3, passed away in Pearland, Texas on February 16, 2021. He was 69.
Ken was born on May 13, 1951, in Houston, Texas to Jack and Tommie Katherine Roberts. Jack Roberts was a veteran of World War II, along with several other relatives. It was this heritage that shaped Ken into the very patriotic person that he was. He never let anyone he knew to be active military or a veteran pass by him without shaking their hand and thanking them for their service.
Ken graduated from Milby High School in 1969, where he met his beloved wife, Janice. They were married for 50 years. He began his career in the electrical supply business right out of high school, working for just two companies (Nunn Electric and Wholesale Electric Supply) during the course of a long 48 year career. He was well respected in his industry and established many friendships along the way.
He loved to take his colleagues and customers hunting, often turning a 6-7 hour drive into a 12 hour scenic route through the Texas Hill Country, with stops at Kasper's Meat Market in Weimar and checking out the painted churches that dot the Texas landscape.
Ken was a devoted husband and father, who taught his children many valuable life lessons. He never missed a football or basketball game when his sons, Kevin and Kelby played or when his daughter, Katherine danced in recitals, for her high school drill team, or as a Houston Texans Cheerleader.
After retiring in 2017, he cherished spending time with Janice and their Miniature Schnauzer, Bella. He doted on Janice and took care of all that he could around the house. He also loved taking Bella for walks around the block several times a day.
He was preceded in death by his parents, Jack and Tommie Katherine Roberts and his oldest brother, Larry Roberts.
Ken leaves behind his loving wife of 50 years, Janice Roberts; his sons Kevin Roberts, wife Starr, and Kelby Roberts, wife April; and his daughter, Katherine Mattulat, husband Josh; 15 grandchildren; and two brothers Mike Roberts, wife Marilyn, and Rick Roberts, wife Diann.
A memorial visitation will be from 1:00 P.M. to 2:00 P.M. on Saturday, March 6, 2021, with a memorial service to begin at 2:00 P.M. in the chapel of Crowder Funeral Home in Pearland.
In lieu of flowers, please make an "In Memory of" donation to Camp Hope (ptsdusa.org/give-help – click "Tribute/In-Honor" in the top right corner) and/or Miniature Schnauzer Rescue of Houston (msrh.org/donate – click the paw), in Ken's name. Thank you.