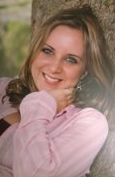 Kelli Marie O'Donnell, a Houston resident since 2006, was born June 17, 1987 in Honolulu, Hawaii and passed away March 2, 2016 in Houston, Texas.
Kelli was a wonderful, big hearted woman who loved people and would do anything to help out. Having wanted to be a nurse since she could talk, Kelli fulfilled her dream by graduating from the San Jacinto RN Nursing program in December 2015. Throughout school Kelli worked as a nurse's aide at Memorial Hermann Southeast. She loved going the extra mile for her patients and they loved her in return. Kelli also was a very creative cook, and could come up with wonderful dishes at the drop of a hat. You could always count on her to make you a favorite Cheesecake for your birthday!
She is survived by her parents, Kirk and Debbie O'Donnell; sister, Karri O'Donnell; grandparents: Karen Liston, Cathy and Myron Rusley; and many other loving family members.
We say goodbye for now to Kelli on Monday, March 7, 2016 at 2pm at Crowder Funeral Home in Pearland.
With Kelli's love of coral reefs, the family will be providing a permanent environmental living legacy that will protect and nurture coral reef.  If you are interested in supporting this, you financial donation is welcomed or you can go to www.Gofundme.com/6xsvyvgk