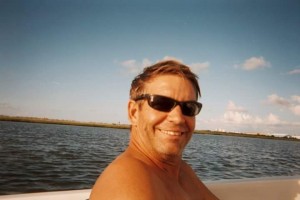 Keith Richard Hinze, aged 53, of League City, Texas was welcomed into Heaven for a joyous homecoming on June 13, 2015. Keith lost is valiant and determined three year battle with cancer and passed peacefully at home comforted by his wife and his beloved and loyal Labadors Taos and Tank and close friend Chad Hansen.
Keith was born on April 17, 1961 at Herman Keifer Hospital in Detroit, Michigan. He graduated high school on June 13, 1979 from Riverview Community High School. He continued his education at Ferris State College and earned his Associate Degree in Metallurgy in 1982.
After graduation, Keith moved to Galveston and once his feet touched the sand and experienced the Gulf of Mexico, a lifelong love affair with the ocean began and he never looked back. He was the owner/operator of EyePaint Body Shop in Galveston and High Tech Marine in Kemah. His love of the ocean and boats transformed him into a master boat mechanic, a profession at which he excelled.
Survivors include his dedicated and loving wife, caregiver, and best friend Canelia (Connie) White Layton, step sons Jonathan R. Layton and Mark Bryan Layton. He is also survived by his parents Phyllis La Dora (Miller) Hinze and Richard Eric Hinze, sister Kathleen Sue (Hinze) Dorr, niece Rachel Nicole (Dorr) Singleton, nephew Eric Lee Dorr, great niece Ashley Nicole Dorr-Randles and great great nephew Reese Eric Dorr.
Cremation services were arranged through Crowder Funeral Home, Dickinson, Texas. A memorial fund "Keith's Cancer Warrior Battle Costs" is set up at gofundme.com/wxvhmc for funding Keith's Ashes Spreading Celebration. Private ceremonies will be scheduled in his favorite locations; Offatt's Bayou, Galveston, Texas, as well as Wolf Lake, his favorite childhood place in Wolf Lake, Michigan.