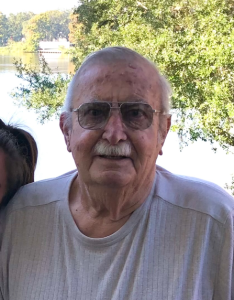 Keith Nile Johnson passed away on March 19, 2022, peacefully with family at his side. Keith was born on January 20, 1939, in Parkers Prairie, MN to Nile Johnson and Flora Froemming. He is survived by his two children, Theresa Laws of Pompano Beach, FL and Brian Johnson of Houston, TX; and seven grandchildren. Keith was preceded in death by his loving wife of 50 years, Jane (Waller) Johnson.
Keith grew up in rural Minnesota but desired to see and experience the world. He accomplished this while also spending much of his life in the service of his country. He joined the Air Force in 1957 and served in several stations around the US.  As an Airman, Keith showed an affinity for linguistics and obtained several certifications in Chinese linguistics, which included studies at Yale University.  After an honorable discharge, Keith continued his language and international studies at the University of Washington in Seattle. Upon graduation, he was recruited by the National Security Agency in Fort Meade, MD where he continued to hone his Chinese language skills. Early in his career, he and his young family lived in Taichung Taiwan for a year and completed an intensive language course. Keith held several increasingly challenging positions during his 28-year career as a civil servant with NSA, ultimately serving as Division Chief overseeing cryptologic services.
Upon retirement Keith and his wife Jane set new roots in Navarre Beach, FL and happily lived with the Gulf of Mexico in their backyard for almost 28 years. Keith and Jane both spent countless hours in their retirement supporting the local community through leadership of the local leaseholder's association and volunteering for several community events. Finally, Keith moved to Houston to be close to family and enjoy the final years of his fulfilling life.
Keith will be missed by family, friends, neighbors and more.  Arrangements were entrusted with Crowder Funeral Home.