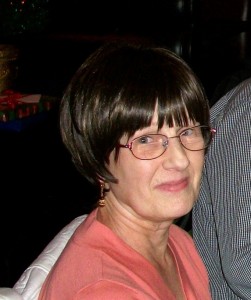 Kathryn Marie Johnson, age 69, loving mother, grandmother, and sister, passed away the morning of Thursday, the 18th of February 2016 at her home in Houston, Texas. Kathy was born on November 25, 1946 in Minneapolis, Minnesota. During her childhood, she moved extensively and lived in many different states across the U.S. as her parents were officers in the Air Force. In 1965, she settled in Houston when her father began working at NASA on the Apollo program.
Kathy was an avid reader and instilled the love of literature in her family. She was fond of animals, especially her cats who had the best life with her. She enjoyed the Houston Ballet and other theatrical productions in Houston. Over the past 20 years, Kathy traveled extensively even after being diagnosed with cancer and undergoing years of chemotherapy and other treatment. She enjoyed small cruise ships where she could experience nature, hiking, whale watching, zip lining and visiting remote places only accessible by Zodiacs. She visited Machu Picchu, the Galapagos Islands, the Arctic Circle, the Bering Sea, Scandinavia, Russia, Venice and France – just to name a few. She traversed the Panama Canal and journeyed through Columbia and the Snake River following Lewis and Clark's expedition.
Kathy was preceded in death by her parents, Dennis and Maurine Johnson. She is survived by, and leaves extremely saddened, her daughter Debbi Gadin and husband, Eric Gadin, their three sons, whom she adored, Alexander, Christophe and Tristan Gadin. Kathy is also survived by her brother, Mark Johnson, her four step-sons, Duane Lawrence, Glenn Lawrence, Mark Lawrence and Addison Lawrence, their children, and many other dear friends and relatives.
Kathy was diagnosed with breast cancer nearly 17 years ago. She was determined to be strong and fight this disease to live her life to the fullest and above all else to be a devoted grandmother to her three grandsons. Kathy was fiercely independent, selfless, giving and courageous. She never complained about anything and always put her family and friends first. Kathy's cancer migrated to her liver but her unyielding strength overcame it. Nearly two years ago, Kathy was diagnosed with pancreatic cancer which eventually took her life. We are incredibly humbled and thankful for every day she gave to us. Her strength and conviction to live allowed her grandsons to know her, learn from her and be part of her incredible life. Kathy will be dearly missed by her family, friends and all who knew her.
A service celebrating the life of Kathy Johnson was held at eleven o'clock in the morning on Saturday, the 27th of February, at Crowder Funeral Home, 1645 East Main Street, League City, Texas 77573, with Rev. Kathleen Kendall Davies presiding. In lieu of flowers and in tribute to her battle with cancer, the family asks that donations be made to the Susan G. Komen Breast Cancer Foundation at www.info-komen.org.