Kathryn Louise Coughenour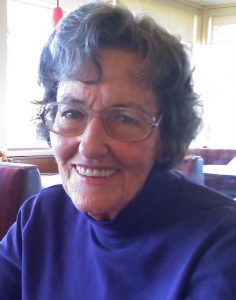 Kathryn Louise Coughenour, 91, passed away on Sunday, May 12, 2019 peacefully at home surrounded by people that loved her.
Our mother was an accomplished seamstress, enjoyed crocheting, and gardening. Her glass was always ½ full never ½ empty. Our family ritual of saying hello and goodbye with a big hug, kiss and pat on the back was employed at every opportunity. She is in our hearts along with her undaunted spirit. She is greatly missed.
Kathryn joins her husband of 42 years, Harrison Coughenour; sons: Clifford and David Brown; parents, Fred and Louis Pitner; brother, Gregory Pitner.
Kathryn leaves behind her daughter, Kathy Lynn Fitz, husband Richard; son, Bob L Brown; daughter-in-law, Barbara Brown; grandchildren: Leroy Shipp, Katrina Fitz-Hazlitt, , David Shipp, Bob L. Brown, Jr., Bernadette Dray, Brandon Brown, Clifford Brown, Jr., Mandy Brown, Katie Brown, Nicole Rolandelli, Kathy Blair; numerous great grandchildren and great great grandchildren.
Burial of ashes will be at Fort Sam Houston National Cemetery on Saturday, May 25, 2019 at 1:00 p.m.