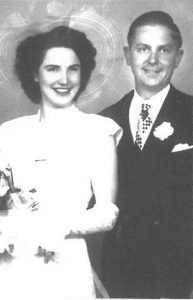 Kathryn Jeanne Johnson, 94, of Canyon Lake, Texas passed away on Tuesday, July 02, 2019 in La Marque.  She was born December 23, 1924 in Valparaiso, IN to Dennis and Anna Hayes.
She is preceded in death by her parents, her husband Harold Iver Johnson, daughter Lynellen Kessinger, and grandson Willian Hearn.
Kathryn is survived by her daughter Dawn Hearn and husband Jim of Texas City, son Mark H. Johnson and wife Donna of League City and son-in-law Mark Kessinger of Colorado, sisters; Marilyn Moench, Florence Locke and June Buck, her grandchildren; Heather Correa (Eric), Asia Kessinger and Cary Lawrence (Kevin) and great grandchild Jackson McKee and numerous nieces and nephews she loved very much.