Katherine (Kem) Mayfield Marshall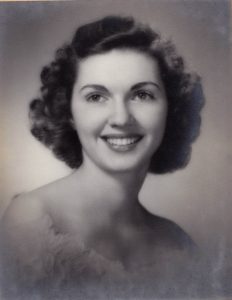 Katherine Marshall passed from this world on February 11, 2018, in League City, TX to join Jesus, her husband Sam, daughter Kay, and parents in Heaven. She is survived by her daughter Patty Branch, four grandchildren, and nine great grandchildren. Kem grew up in Houston and graduated from San Jacinto High School, attended Rice University until her family moved to Austin, and completed her degree at the University of Texas at Austin. She met the love of her life, LT. Sam Marshall, at an aviation cadet mixer in the Rice Hotel while he was stationed at Ellington Field in the early part of WW II.
After the war, Kem and Sam lived in College Station while Sam completed his degree in engineering at Texas A&M. During their years with Texaco, they lived in Port Author, TX; Palos Verdes, CA; Lysekil, Sweden; and Houston, TX. Outside of family, the center of her life, Kem was a strong Christian and loved being active in bible study and women's groups as well as the PEO sisterhood. She taught French and math at the high school level, was a fantastic seamstress, accomplished in needlepoint, and loved sailing with her husband and family.
Kem led an awesome life of 96 years filled with love, dignity, a deep faith, close family, quest for learning everything she could by devouring every book in the library, and encouraging all to use every God given talent to be the best they could be. Her life was a gift to all who knew her.
A memorial service will be held at the Crowder Funeral Home, 111 E. Medical Center Blvd. in Webster, at 2 pm on Saturday, March 3rd. Dr. Mike Deaton of Clear Lake United Methodist Church will officiate. In lieu of flowers, Kem desired donations to Clear Lake United Methodist Church building fund or the Salvation Army.