Katheleen V. McLemore Staffa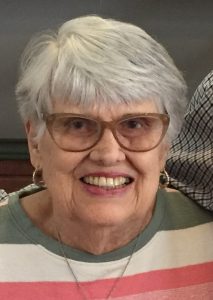 On January 14,2021, Katheleen V. McLemore Staffa, devoted wife, mother and sister passed away at the age of 88 after a brief illness.  Kathie was born on March 8, 1932 in New Orleans, Louisiana.  She graduated from Darling High School in Mississippi before serving her country in the United States Air Force.
During her military service Kathie met and married Mike Aguilar with whom she had five children.  Their lives took different directions and Kathie's, in addition to motherhood, led her to a career working for Marathon Oil Company where she worked in the accounting department.  There she met and married her best friend and soul-mate Sylvester Eugene Staffa, (Gene).
They lived in Dickinson, Texas where Kathie was a dedicated member of the Pilot Club, holding the presidency along with many other offices during her tenure there.   She also worked as a school volunteer helping second graders improve their reading skills.  Kathie faithfully donated to many charities, Alzheimer's Association being her favorite.  After raising their combined 8 children, Kathie and Gene retired from Marathon and were able to enjoy their time together playing golf and traveling the country, including a long-planned trip to Jerusalem, Israel.
Kathie is preceded in death by her husband Gene Staffa.  She is survived by, and will be greatly missed by her 8 children:  Mick Aguilar (Ruby), Chuck Aguilar (Suzie), Debbie Beathard, Ellie Evans, Cheryl Grabow (Fred), John Aguilar (Amy), Anna Broughton, and Stuart Staffa (April), and many grandchildren and great grandchildren, as well as her sister Jimmie Smith Shields and brothers Len and Sam Minyard and John and Sal McLemore.
Kathie Staffa was a member of First United Methodist church in Dickinson, Texas, where she and Gene both served and worshiped faithfully and as they were able until their passing into the arms of their Heavenly Father.