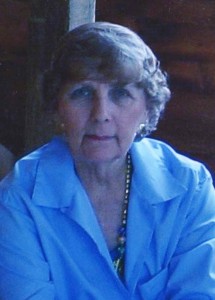 June Curry, 87, passed away on June 9, 2015. She and her family have resided in Santa Fe, Texas USA since 1969. They formerly lived in Galveston, Texas.
June was the mother of four daughters and two sons, in that order. She is survived by four of her six children. She was preceded in death by her second daughter, Sandy June King and her third daughter Marguerite Frazier; her nephews, Mickey Russell of Houston, Texas, Darrell Russell, of Hockley, Texas, Ricky Russell of Homa, Louisiana, Earl P. Russell III, of Texas City; and her brother Earl "Red" Russell Jr. of Galveston, Texas.
June shared her special gifts of love, friendship, and generosity to everyone who came into her life. She was a devoted friend who was loved and admired. If friendship was a measure of wealth acquired in life then June enjoyed a fortune exceeding that of Midas.
June was extremely creative when it came to sewing and she was a meticulous seamstress. She made all of her children's clothing through the years.
June had a passion for the city of New Orleans, Louisiana, USA, where she was born on June 27, 1927. Her paternal Grandmother was a licensed midwife there for many years.
June was also preceded in death by her parents, Earl P. Sr. and Marguerite Russell both of Galveston, formerly of New Orleans.
June was a lifelong Catholic and was a member Our Lady of Lourdes Roman Catholic Church in Hitchcock, Texas, USA. She was a deeply committed church volunteer.
She also was an active member of the Mainland Medical Center Hospital Auxiliary Volunteers in Texas City, Texas USA, where she worked for many years.
June was a member of the High Fliers club of 1927, H2U of Mainland Center Hospital. The Santa Fe TOPS club, chapter 1237. The Sacred Heart League, the Commander Club, the family Friendship Club of Santa Fe and the Santa Fe Grandmothers club chapter 1033. She was a former member of the Santa Fe Extension Homemakers Club for twenty six years.
June's surviving children are her daughters Kathy June Parker and Norma Jean Nelson, both of Jamaica Beach Galveston Island, and her sons William "W.C." Curry and Capt. Walter Curry, both of Santa Fe, Texas.
Her brother Burnell Russell and wife Gwen of Cypress, Texas.  Niece Deborah Gates of Santa Fe; her nephews, Dean Russell Wilks of Lampassas, Texas Ronnie Russell and wife Tanya of Houston, Texas and Chris Russell and wide Cindy of Cypress, Texas.
Her loving family by marriage Allan Curry and wife Marina of Florida. Bernard Curry and Wife Virginia, And Walter Curry and wife Zetti, both of Treasure Cay, Abaco Bahamas. Travis Curry and wife Peggy of Marsh Harbour, Abaco Bahamas, and Estella Curry Lowe of Freeport, Grand Bahama Isle and all their families.
June was an awesome Grandmother and she shall be missed by all her grandchildren. Roy, Jimmy, Little Larry, Sandee, Lauree, Richard, Darrell, June, Matthew, Christopher, Jennifer, Walter, Josh, and Holly.
Her great-grandchildren, Roy, Courtney, James, Brandon, Dylan, Kara, James, John, Jase, Camren, Jake, Max, Reese, Hanna, Haili, and Vanessa.
June was the widow of Capt. Bill Curry who passed away August 28, 1986.
June's family would like to invite everyone to her visitation, Friday, June 12, 2015, from 5:00 to 7:00 pm, Crowder Funeral Home , Dickinson, Texas, and to her memorial and funeral service on Saturday, June 13, 2015 at 11:00 am, Crowder Funeral Home, Dickinson, Texas. She will be laid to rest beside her husband in the Mt. Olivet Catholic Cemetery, Dickinson, Texas.
Honoring June as pallbearers are Camren Snider, James Evans, Ryan Russell, Chris Russell, Ronnie Russell and Alex Russell.