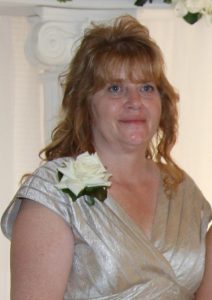 On Saturday, December 10, 2016, Judy Ann Graham, 55, passed into the loving arms of Jesus surrounded by her loving family and entered into her eternal life with Christ. Judy was born in Erie, Pennsylvania, on November 19, 1961, to David Ralph Eades and Joyce Elaine Shepherd. She was predeceased by her mother.
She married her soulmate, Rick Allen Graham, and was a loving mother to their three children, whom she loved with all her heart. She was devoted to her family and always had a smile. Judy was a loving and faithful wife, mother, grandmother, sister and friend. She always put everyone's needs before her own and could not have been happier when she became a grandmother. She adored her granddaughter, Kailyn, and was joyfully awaiting her grandson, Jaden. She loved her dogs, Jake, Cookie and T.J., who remained by her side until the end. Judy was co-owner and bookkeeper for Graham Landscape & Irrigation in Santa Fe, Texas for the past twelve years. Judy fought a courageous battle until the Lord called her home.
Judy Ann Graham is survived by her husband of 38 years, Rick Allen Graham, her sons, Jason Allan Graham and wife Robin, Jesse Graham, and her loving daughter, Jillian Graham Hanks, and her devoted son-in-law, Brandon J. Hanks whom she loved like a son, granddaughter, Kailyn Emma Graham, and her soon to be born grandson, Jaden Graham. She is also survived by her sisters whom she dearly loved, Joan Stein and husband, Jack, and Janet Roney and husband, Rob, and nieces and nephews.
A funeral service will be held on Wednesday, December 14, 2016 at 11:00 a.m. in the chapel of Crowder Funeral Home in League City, Texas, Burial will follow at Mt. Olivet Cemetery in Dickinson, Texas.
Pallbearers will be: Brandon J. Hanks, Jason Graham, Trenton Hanks, Rob Roney, Garrett Lewis and Eric Vassallo.
Please join us in celebration of her life.
We know Judy is soaring high in Heaven with angels until we meet again……