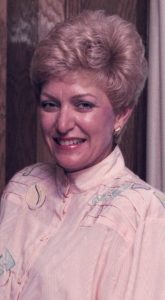 Judy Ann Albright, 78, a resident of Pearland, TX, formerly of Willis, TX, passed away October 23, 2022 in Webster, TX. She was born February 27, 1944 in Houston, TX. She was a member at Sagemont Baptist Church. Judy enjoyed being a loving and caring wife, mother, and grandmother. Her first love was for cooking for her family. She also enjoyed working in her flower beds, traveling and antiquing.
She reunites with her husband of 37 years, Harold Lloyd Albright; her parents, Gerald and Sue McManus; brother, Jerry McManus.
Judy leaves behind her sons: Anthony Wade Albright, Kevin Doyle Albright, and Kyle Lloyd Albright; grandchildren: Payton Lloyd Albright, and Emily Elizabeth Albright; sister, Emma Sue Crapito.
There will be a visitation from 10:00 a.m. to 11:00 a.m. Friday, October 28, 2022 with a service at 11:00 a.m. at Faith Community Church in Pearland. Followed by a graveside at 2:30 p.m. at old Waverly Cemetery in Old Waverly, TX.
In lieu of flowers, please make donations in Judy Albright name to, Honor Foundation, 11055 Roselle Street suite 120 San Diego, CA 92121 The tax ID # is- for their tax write off: THE HONOR FOUNDATION IS A 501(C)(3) TAX EXEMPT, NATIONAL NON-PROFIT CHARITABLE FOUNDATION. TAX ID # 46-2952873, https://www.honor.org/donate