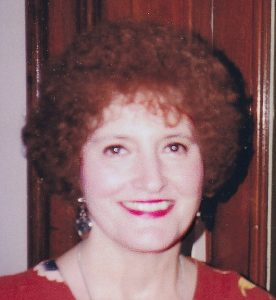 Joyce Termini went peacefully home to Heaven on Wednesday, November 23rd, 2022, with her children at her side. She was born in Cincinnati, Ohio, on September 19th, 1936, and to the very end of her earthly life, she loved reminiscing about her days up north.
Joyce was a beautiful and loving woman, sweet to everyone she met, always ready to share her wit and humor. She was passionate about coffee, nature, animals, crossword puzzles, and her favorite game shows (The Wheel of Fortune and The Price is Right), but even more passionate about being a great mother, wife, sister, and aunt. She loved laughing and chatting on the phone with her mom and siblings. She never failed to send letters with all the latest news (and a few dollars shoved inside) when her children were living abroad. She strove to be at every soccer game, piano recital, graduation, and karate exhibition, and never hesitated to take the time to listen whenever her wise and loving words were needed the most.
Joyce had a vast variety of job skills, working not only in retail (Woolworth's and Joske's), but in various secretarial roles at the light company and Superior Oil—where she'd sometimes greet the future President George Bush, Sr., on the elevator. Her most beloved job was at Bayou Realtors in Dickinson, TX, where she worked as both a real estate agent and a secretary for over 25 years, combined, until her retirement in 2007.
All her life, Joyce was extremely active in the church, whether it be as a teen and twenty-something in the Saint Anne's Club of Houston, in the Third Order of St. Francis, in various church and community choirs, or in the Young Singles Club (a club she soon left after meeting a handsome, young space engineer named James Termini, to whom she was married for nearly 54 years until he passed away in 2021). She and husband James continued to stay very active at the Shrine of the True Cross in Dickinson, teaching both Confirmation and CCE, being front-and-center at the Adventurous Seniors, and spoiling their friends in the Bible Study when it was their turn to bring the food. Joyce was also a longtime member of the Catholic Daughters of America, the Women's Club, and the Shrine of the True Cross choir. She was a great lover of music, practically a human jukebox, able to recall the lyrics and melodies of songs going all the way back to her early childhood. One of her favorite things to do was to spontaneously sing you a song, and ask, "Have you heard that one before?" It grieved her most especially when she had to start curtailing her involvement with the choir—but she is now thrilled with her new singing role in the angelic choirs of Heaven.
Joyce is preceded in death by her loving husband, James A. ("Jim") Termini; parents, Charles and Grace Critchell; brother Charles ("Chuck") Critchell; sister, Barbara Newman; and brother-in-law Earl Newman. She is survived by her daughter, Mary Grace Termini of Seabrook, TX; son, Steven Termini of Dickinson, TX;  sister, Holly Blackwell and brother-in-law, Jeff Blackwell of the Woodlands, TX; sister-in-law Lilly Critchell of Victoria, TX; and many loving nieces and nephews.
Visitation will take place on Monday, December 5th, 7:00pm (a public viewing beginning at 5:00pm, a Rosary at 7:00pm) at Crowder Funeral Home in Dickinson, TX, and a funeral Mass will take place the following morning, December 6th, 11:00am, at Shrine of the True Cross Catholic Church. Fr. Larry Wilson will preside.