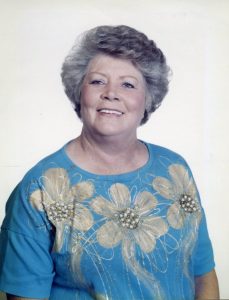 Joyce Ann Curry, 72, of Santa Fe, Texas, passed away October 28, 2016 in Webster, Texas. She was born July 25, 1944 to Varnell and Harvey Maier, Sr. in Tylertown, MS.   Joyce was a hard worker, a loving wife, mother and grandmother.  She retired from Southwestern Bell after 32 years of service. She was the generous, giving person, always worried about the well-being of everyone around her, and not a penny accepted in return… (just a visit or a call.) She loved to cook for her family. And always made sure her grandchildren Erica, Brandon, Colton, Tyler had everything they needed. She never let them do without. They were always put first. She is and always will be loved dearly.  Words can't express how much she will be missed by her Diamond, family, and friends. Joyce's Friday ritual was to have her hair styled by Linda in Santa Fe.  She would not be caught outside without her hair and make-up fixed to perfection. Joyce was cherished and love by many at her local game room. It was her get away/hobby with her friends Paula & Pudd, Summer and Veronica. Keno was her thing. Joyce was preceded in death by her parents, sister Isabell Wainscott, and brother James Maier.
She is survived by her loving husband of 40 years, James Curry, Jr.; son Chester Dale Morgan, Jr. and wife Mechell; brother Harvey W, Maier, Jr; grandchildren Erica (Brandon Malm) Morgan, Colton Morgan, Tyler Morgan, Rebecca Smith, Shana Cantrell, and Paul Cantrell; and great grandchildren Dylan, Hayden, Caleb, Bradley, K.K., Kylie, and Adrian.
A visitation in her honor will be held 5:00 – 8:00 pm, Monday, October 31, 2016, with funeral services 1:00 pm, Tuesday, November 1, 2016 at Crowder Funeral Home Chapel, Dickinson, Texas.