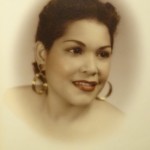 Josephine Morales, 87, resident of Dickinson, Texas, passed away December 4, 2013. She was born March 19, 1926 in Big Spring, Texas to parents, Felix and Antonia Salazar. She was preceded in death by her parents, sisters, Isabel Velez, and Ofelia Sanchez, and brother Manuel Salazar.
She is survived by her husband, Elicio Vito Morales II; daughters, Cynthia Valencia and husband Robert, Georgina Morales and Henry Gomez; son, Eliseo "Panama" Vito Morales III and wife Virginia; sisters, Elva Campos, Rosie Jara, Magdalena Medina, and brother, Jesse Salazar; grandchildren, Bobby Valencia, Eddie Morales, Michael Morales, Andrea Morales, Raquel Morales, and Bridgett Gutierrez; and nine great-grandchildren.
Visitation will be held from 5 pm-8 pm, Monday, December 9, 2013 with a rosary beginning at 7 pm at Crowder Funeral Home in Dickinson, Texas.
Funeral Mass will be held at 10:30 am Tuesday, December 10, 2013 at St. Mary's Catholic Church in League City, Texas with interment following at Mt. Olivet Catholic Cemetery in Dickinson, Texas.
The family thanks Hospice Compassus for all their care and support.