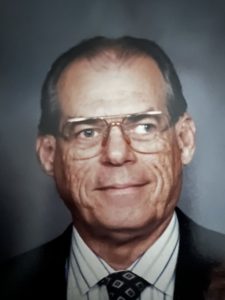 Joseph Thomas Cottingham, 89, of Dickinson, passed away December 30, 2022 in Houston.  Joseph was born August 18, 1933 to Lydia and Collie Cottingham in Dickinson.  He proudly served his country in the U. S. Army.  Joseph supported his family as a machinist for Monsanto/Sterling for many years and was a loyal member of Faith Lutheran Church Dickinson. He loved the outdoors and did beautiful woodwork, from furniture to items for the church.
Joseph was preceded n death by his beloved wife Esther Pape Cottingham, sister Jackie Simmons, and brother Gerald Cottingham.
He leaves behind to cherish his memory his daughter Elizabeth Anne Nicklas and husband Kevin; son Joseph Edward Cottingham; grandchildren Sean Thomas Kuylen, Catherine Kuylen, Maryssa Nicklas, and Jimmy Nicklas.
The family will be receiving friends from 10:00 – 11:00 am, with funeral services at 11:00 am, Friday, January 6, 2023, Crowder Funeral Home Chapel Dickinson.  Interment will be 4:00 pm, Friday, January 6, 2023, at Elizabeth Lutheran Cemetery, Caldwell, Texas.