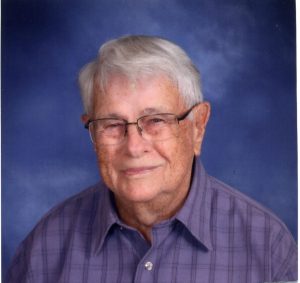 Joseph Matthew East of Galveston (BOI) and Dickinson died on Wednesday, January 12th at 94 years of age.
He was born to Joe and Hannah Whelton East in Galveston on December 12, 1927 and attended St. Patrick's Elementary and Kirwin High School. Joe moved to Dickinson in 2007 with his devoted wife Dolores.  They were blessed with a 56-year marriage.
He is also survived by sons James (Elizabeth) East, Michael (Jean) East, and Joseph (Stacy) East, and daughters Therese (William) Cleaver, and Catherine (John) Stansfield.  He was predeceased by his parents and his brother, Bernard.
Joe loved his family and his children have made him a grandfather 17 times and great-grandfather to 23.
He was employed as a steamship agent for Biehl and Company of Galveston retiring in 1991 after 41 years of service.  Joe always wanted as a young man to have a career in the Coast Guard. As required by law, he registered at 18 years of age, and was called at 19 for the draft.
Reporting to the draft board in Houston with three friends, "the army tested us, gave physicals, and I was rejected because of size and weight." In summer of '46, he went to New Orleans where the Coast Guard was interviewing. "The doctor looked at me, weighed me, and told me to go home and eat a stalk of bananas before coming back."
In 1947 he learned of the V6 Program in the U. S. Navy. The navy physician said if he could get a doctor to stipulate his small size was not a medical problem and certify he was healthy they would accept him in the Naval Reserve.  Joe served 8 years – USS PCE 874 and USS Haas (DE424) and Naval Station in Orange on flood relief duty.
Joe was an amateur radio operator (K5 MDI) licensed in 1957.
He was active in the Propeller Club of Galveston and a member of the Elks Lodge. After retirement Joe enjoyed hunting, camping, cruises to Alaska, the Caribbean, and the Bahamas, traveling to Hawaii and touring Ireland, Scotland, England, France and Italy.
Visitation will be held at Crowder Funeral Home Dickinson 5:00 – 7:00 PM, Wednesday, January 19th with a rosary at 7:00 PM.  A funeral Mass will be held at 10:30 AM on Thursday, January 20th, at Shrine of the True Cross Catholic Church in Dickinson. Burial at Mount Olivet Catholic Cemetery, Dickinson.