Joseph Lawrence Mares, Jr.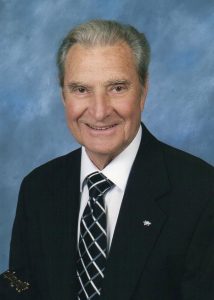 Joseph (Joe) Lawrence Mares, Jr.passed away June 17, 2017 at the age of 90. He was born in Galveston, Texas on December 6, 1926. He is survived by his wife of 69 years, Wanda and two daughters; Dianne Barron and Jackie Niccum. Other family members include son-in-law Dave Barron; grandchildren, Grant Niccum (spouse Kati) and Blake Niccum (spouse Maria); and nieces, Linda Venske (spouse Elmer) and Laurie Popovits.  He is preceded in death by his parents, Jean and Joseph Lawrence Mares, Sr. and sister, Lorraine Toebelman.
Joe graduated from Ball High School in Galveston, Tx., and completed his baccalaureate, masters and doctoral coursework at Baylor and the University of Houston.
An educator by profession, he held positions as teacher of physics and chemistry, counselor, assistant principal, principal, Director of Instruction for the Dickinson ISD, and Satellite Director of Region IV for Galveston County. He served our nation during WW II in the U.S. Merchant Marines. His community service included the Lion's Club, Arabia Shrine Temple, Rotary Club of Dickinson, and multiple leadership positions with the First Presbyterian and First Methodist Churches of Dickinson, and fundraising projects throughout the community. His quiet gentle nature will be greatly missed, but his loving contributions will live on through friends, community and family.
The family will receive friends from 6 to 8 p.m. at the Crowder Funeral Home in Dickinson (281) 337-1515, Wednesday, June 21, 2017.  The Memorial service will be held on Thursday, June 22, at 11:00 a.m. at the First Methodist Church in Dickinson, Texas, located at 200 FM 517 Rd. W., Dickinson, Texas.
Tributes and words of condolences may be provided at www.crowderfuneralhome.com. In lieu of flowers, donations may be made to Shriners Hospital for Children – Houston, 6977 Main St., Houston, TX 77030.