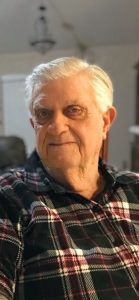 Joseph (Joe) F. Konecny, 88, of Santa Fe, Texas, passed away on February 21, 2023.  He was born on March 9, 1934 in Halletsville, Texas to parents, Henry and Stephina Konecny.  He was a member of the Knights of Columbus #10393 and Our Lady of Lourdes Catholic Church.
Joe is preceded in death by the love of his life, Antoinette; his parents, brothers Henry, William, Arthur; and son, Steven.
Joe (Dad, Grandpa, Papa) leaves behind to cherish his memory — daughter, Lisa Larson and husband, Dale; son, Joe Konecny, Jr. and wife, Yvonne; sister, Dorothy Nagelmueller; brother-in-law, Frank Marullo and wife, Linda; grandchildren, Christine Hemphill and husband, Sam, Michelle DeWitt and husband, Dale, Kimberly Konecny and fiancé, Jake Cano, Nikki Larson, Heather Kuehl and fiancé, Kacey Gunter, great-grandchildren, Caleb, Benjamin, Rachel, Nadiya, Trey, Leo, Nicholas, Colt, Kendall, Wyatt and Kaycee Jo.
Visitation will be held from 9:30 – 11:00am Monday, March 6, 2023 at Our Lady of Lourdes Catholic Church in Hitchcock, with a Rosary at 10:30am recited by the Knights of Columbus.  A Funeral Mass will follow at 11:00am with Father David Harris, Celebrant.  Interment will follow at Mt. Olivet Cemetery in Dickinson.
Honored to serve as pallbearers are Leo Douglas, Colt Kuehl, Trey Lane, Nicholas Lane, Kacey Gunter and Dale Larson.
Special thanks to Village Hospice and the staff at The Heritage of Clear Lake Memory Care for their compassion and care of Dad.