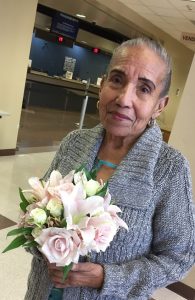 Josefina Lara Mejia, 76, entered into Eternal Peace on Monday, March 6, 2017. She was born March 19, 1940 in Ciudad Fernandez S.L.P., Mexico to parents Lazaro Sanchez and Maria Asuncion Lara. She was a fifty-year resident of Texas City, and a parishioner of St. Mary of the Miraculous Medal Catholic Church.
She was preceded in death by her son, Manuel Mejia Jr. and former husband Manuel A. Mejia.
She is survived by her daughters, Minerva Mejia, Micaela Mejia, Marisela Espinoza, and Maria G. Mejia; son, Jesse Mejia; three sisters; one brother; ten grandchildren and three great-grandchildren; and lifelong family friends, Marcia Ellison and Gilberto Garza.
Visitation will be held at 5:00 p.m. Sunday, March 12, 2017 at Crowder Funeral Home in Dickinson, Texas, with a Celebration of Life following at 7:00 p.m. Graveside services will be held at 10:30 a.m. Monday, March 13, 2017 at Mt. Olivet Catholic Cemetery in Dickinson.