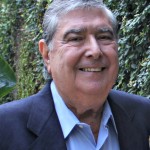 Jorge Willars, 74, of Houston, TX passed away on March 19, 2014. He was born in Monterrey, Mexico on November 27, 1939. He and his family moved to McAllen, TX in 1954. He graduated from the University of Texas-Pan American in 1961 with a BA in physics & mathematics. He married Maria Elena Ramirez in 1963. They moved to Houston in 1964, beginning his 25 years of service to NASA. He then worked with Roche Medical, Abbott Labs & Positron until he retired in 2004. Jorge was an avid hunter and fisherman. Some of his fondest days were spent at the family's ranch in Zapata, TX hunting and fishing with his family and friends.
He is preceded in death by his parents: Jose Maria and Micaela Willars; grandchild: Steven Hayes; brothers: Jose Maria and Javier Willars.
Jorge is survived by his wife of 51 years, Marie Elena Willars and their children: Laura Jacobson and her husband Malcolm, Diana Hayes and her husband Mike, Angela Miller and her husband Jeff, and Jorge A. Willars and his wife Joanna. He is also survived by: 11 beloved grandchildren, Shannon and Colin Jacobson; Sara, John, and Michael Hayes; Brian, Alec, and Abbey Jenkins; Zach Miller; Jake and Hannah Willars, a sister, Marisela Willars, and a brother, Hector Willars.
A memorial Mass will be held on Thursday, March 27 at 10 a.m. at St. Michael Catholic Church, 1801 Sage Rd. Houston, TX 77056.
In lieu of flowers, the family requests that memorials be made to St. Michael's Catholic Church,1801 Sage Rd. Houston, TX 77056 or to Heart to Heart Hospice, 12929 Gulf Fwy #300 Houston, TX 77034.
The family wishes to extend their gratitude to Department 2A at Memorial Herman Hospital Southeast and to Heart to Heart Hospice for their loving care and support in his final days.