Jon Townsend Senderling, Jr.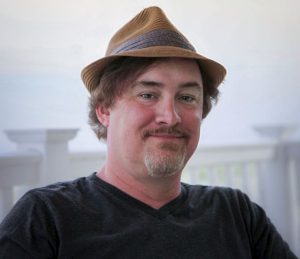 Jon Townsend Senderling, Jr.
May 9, 1966 – May 2, 2022
If there were a word to describe Jon Townsend Senderling (May 9, 1966—May 2, 2002) it'd be one of a kind. OK, that's four words but I was never any good at math. I don't know if Jon was any good at math, either, but he was good—sometimes very good—at about everything else. Especially, when it came to his creative pursuits: music, art, writing, and even filmmaking (how "Where's Uncle Mikey 2" never got a nod from the Academy is a travesty).
My abiding image of Jon is with a guitar strapped over his shoulder or sitting down at a piano playing an original song or something by The Beatles (his fave) or Elton John or any number of other artists he loved. Outside of his family and friends, music was his life and this passion brought him in contact with many musicians and lovers of music, all of whom remained friends with him, from those early days at Plano Senior High School and the University of North Texas all the way to today.
My other abiding image of Jon is smiling and laughing and joking. His sense of humor bordered on the absurd, nourished by watching Monty Python at an early age. He had an endless parade of internal characters and voices with which to draw from; whatever role he assumed, you could be sure he put his whole heart and soul into it. He loved performing on stage, not only for the joy it brought him but for the joy it brought the audience.
That's another thing: Jon cared deeply for his family and friends and would do anything for them. His last great selfless act was to set up a GoFundMe Fund for an ailing friend to help pay hospital expenses, taking the time not only to set up the page but to create a wonderfully moving video to explain the urgent need. He was never farther away than a telephone call, even if he was in Australia (true story involving alcohol on my end). Months may have passed since we'd last talked, but time's passage was never evident in our conversations (just our hairlines).
Even though he was a kid at heart (rock 'n' roll keeps you young; what else explains Keith Richards?), when his dreams of being a professional musician didn't pan out, Jon recognized his responsibilities and had a very successful career as a team builder with over 20 years experience in telecom management, working for both AT&T and Shell to name but a few of the companies fortunate to have had him.
Jon was a devoted and doting father; he understood how important family was, a trait passed down from his own parents, Jon Sr. and Betty. But he extended his blood family to his closest friends, and you always felt a part of that crazy loving family of Philadelphians.
When he moved to Houston, Jon became an important and beloved member of the Timber Cove neighborhood, christening boats, leading parades, and, of course, playing music at neighborhood parties.
Jon was an engaging, intelligent, hilarious, creative, loving, and thoughtful man. I only knew him 40 years but our bond was deep and profound. I've lost other friends, but none have affected me quite the same way. The pain is still real but so are the good memories. From our teenage years (better say nothing about them), our college years (better say nothing about them, too), and into our more mature years, my memories of Jon will help banish the agony of his loss.
Jon is survived by his children: Sean Senderling, Dylan Senderling, Jules Senderling, and Samantha Senderling and their mothers, Nadine Senderling and Devin Rose Senderling. He is also survived by his sister, Tracy Aukes, and her husband John, and their children, Chris Aukes and Nathaniel Aukes. In addition, he is survived by many beloved cousins throughout the US. Lastly, he is survived by a rag-tag group of freaks and geeks who are proud to call Jon a life-long friend.
A memorial service for Jon Senderling will be held on June 4 at 11:00 a.m. at Seabrook United Methodist Church, 3300 Lakeside Dr., Seabrook, TX 77586. We will have a reception following; details to be provided at funeral service. Please BYOB and bring a dish to share. We will have time to share memories and music of some sort, along with TastyKakes food. Please do not park at the house or in the driveway. Parking will be at Robinson Elementary across the street. You can walk to the house or we will provide a shuttle.
Jon was an advocate for struggling musicians and gave to organizations throughout the years to help assist musicians in need. We would request that in lieu of flowers, to please consider a donation to the Houston Music Foundation. This foundation is a crisis relief fund created to help the city's musicians and music industry workers in times of need. Please make checks out to Artists for Artists (please notate that funds are designated for the "Houston Music Foundation in memory of Jon Senderling" in the memo section) and mail to 1101 Elder Street #401, Houston, TX 77007.
Obituary lovingly crafted by his good friend, Simon Martin